Panasonic PABX System
With affordable cost and easy implementation, Panasonic basic PABX system suits all demands of small and midsized companies. Panasonic has small to big solutions that hold an easy to use, flexible and well-suited style and can provide both simple and compact solutions.
Panasonic business phone system enables lower expenses by utilizing existing networks and support your mobile human resource with DECT phone connectivity.
---
Panasonic KX-TES824 Hybrid PBX System
The telephone system is your chief system of communication – your connection to company partners, customers, friends, and even your family members both inside and outside the factory. The KX-TES824 Advanced Hybrid System is a phone system which can promote your business and personal needs. The KX-TES824 supports 3 outside (CO) lines and 8 extensions. As your needs grow, you can easily expand your system capacity up to 8 outside (CO) lines and 24 extensions by using optional cards.
This system provides facilities that meet the requirements of the most advanced and cost-conscious users. You can connect various types of communication instruments, such as cordless phones, answering machines, computer modems, credit card verifiers, fax machines, and any other device that works with conventional telephone lines. The Panasonic KX-TES824 is perfect for a small business or home office requiring an adaptable method with a high degree of refinement.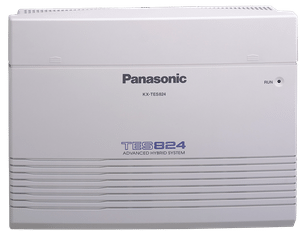 ---
Features
Built-in Voice Message

Caller ID Display

Allow SMS message senders to address their messages

Directly to a specific user's SLT

Direct Inward System Access

8 Analogue lines and 24 Extensions

Call Forwarding when Busy or No Answer

Uniform Call Distribution
Accessories
Standard Proprietary Phone – KX-T7750
---
Panasonic KX-TEB308BX PBX System
Features
UCD – Uniform Call Distribution

Day/Night/Lunch mode

3-level Automatic Reception and Voice Guidance

Adjustable SMS Routing

Caller ID display

3 Fixed lines

4 Hybrid and 4 SLT Extension

Hybrid PBX system

Direct Inward System Access
---
Panasonic KX-TDA30 Hybrid IP PBX System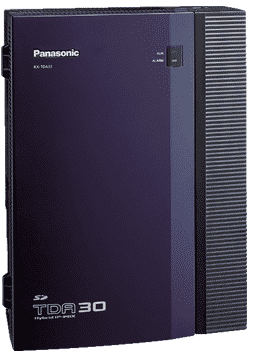 Features
Integrating cordless telephones, deal with urgent calls as and when they are received and reduce cost by not having to call back missed calls.

The maximum number of Telephone extensions.

VoIP compatible, enable to make maximum use of the existing network links between branches and lowering call expenses.

The telephone system and PC to act as one co-ordinated business tool.

Adaptable call ringing groups.
---
Panasonic KX-AT7730 – Standard Proprietary Phone
Panasonic KX-AT7730 – Standard Proprietary Phone is the most efficient, adaptable and cost-effective Proprietary Telephone. This phone is simple and easy to use. The customizable shortcut keys enable extremely fruitful operations. The adjustable, slim and smooth design of this telephone means it fits any type of office design, available in various colors to match your interior's color. This phone is compatible with most of the PABX systems.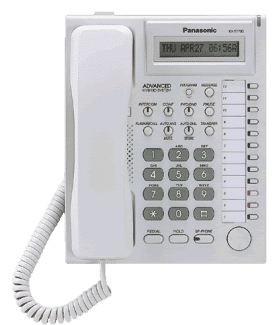 ---
Panasonic KX-AT7730 – Standard Proprietary Phone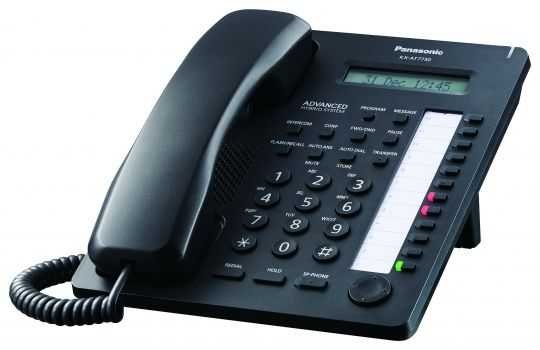 Features
16 characters display on a 1 line LCD
12 programmable feature keys with Dual Colour LED
Message and ringer lamp
Navigator Key
Speakerphone