Cisco IP PBX
Cisco IP PBX enhances the user experience by managing the calls and messages efficiently. By utilizing Cisco PBX System you can make the best use of intersected phone and data networks while keeping the advantage and easiness to use. Cisco Unified Communication System for IP telephony can help improve achievement by satisfying the telephone system demands of employees in the organization.
---
Cisco IP Phone 8861
The Cisco IP Phone 8861 provides extremely secure, simple to handle, mission-critical, overall VoIP communications and telephony feature integration with your private mobile devices for your entire company. It also allows for adaptable installation options with PABX system.
Features
Outstanding voice clarity in VoIP communications with wideband audio
Integration with personal mobile devices using Cisco Intelligent Proximity for Mobile Voice
5″ (800 x 480) high-resolution color screen
Localized language support, including right-to-left on-screen text, satisfies the demands of global users.
Wired, Bluetooth, and USB headsets from third-party vendors
Inbuilt Gigabit Ethernet switch for network connection and computer system connection.
Cisco Expressway provides remote workers single sign-on access without a VPN client
Cisco Energy Wise decreases energy expenses and carbon footprint in off-work hours.
Available in Charcoal and white colors.
Downloads
---
Cisco IP Conference Phone 8832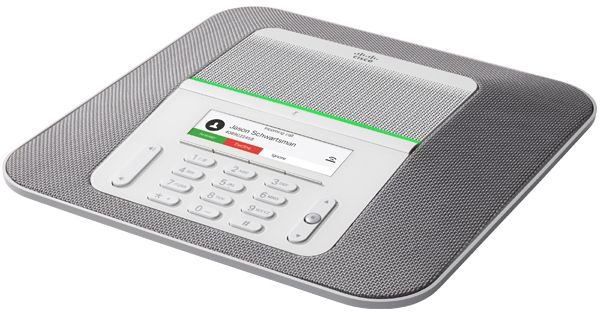 The Cisco IP Conference Phone 8832 improves people-centric collaboration by performing easy-to-use conference calling with amazing voice quality. The Cisco IP Conference Phone 8832 offers a simple, adaptable, scalable system that matches the requirements of the most diverse rooms. Newly released microphones and loudspeakers give the greatest voice of any conference phone on the market. Cisco's sole acoustic design covers a "studio-monitor" full-range speaker. This loudspeaker structure implements a dynamic, detailed sound with reduced distortion and low-frequency clarity, making conference calls an in-person experience with excellently clear and natural voice clarity.
Features
360-degree room coverage; base unit alone covers up to a 10-foot microphone pickup range.
Single line with a user experience of multiple calls per line.
Mobile and Remote Access (MRA) support
Wi-Fi support
Wired extension microphone support
Wireless extension microphone support
SIP Signaling
IPv6 support