CCTV Solutions for home in Dubai (Villa/Apartments/Town Houses)
Remote access to your home or apartment via CCTV security is vital because you can watch from anywhere. CCTV solutions enable you to have control over the recorded and live videos surveillance of the residence and hence, make appropriate response actions. It is crucial for both the retail and government security solutions.
GIC Networks is known to be the best installer of CCTV security solutions in the UAE. We, as Team GIC Networks, install CCTV Cameras for a wide range of markets from the smallest domestic products to large business premises. We offer the appropriate CCTV solutions for your demands.
GIC Networks experts can design and install the large systems, not limited to creating retail and building security management systems that will surely protect your property plus the safety and health of the occupants.
We safeguard your home with security camera system
GIC Networks has the highest rate of apprehension in the security industry in Dubai. In addition to that, we have the lowest false alarm rate. We also managed to achieve a 100 percent coverage rate, early detection and even full verification. This enables you to secure your villa or business premises.
Having been known as the UAE's best CCTV service provider, GIC Networks.com recommends that you get the verified alarms which imply the highest police response rate.
What types of CCTV Camera is apt for residence?
A wide range of models is available to provide you with the CCTV security in your villa or apartment.
The analog video security system
IP Video security system
Analog Video security system
The information in these CCTV security systems is conveyed in the conventional baseband format via the UTP cables to the Digital Video Recorder.
Technically, the analog video security systems are hybrid because the videos are captured and accessed via digital means.
IP Video security systems
These systems transfer the captured information through the IP network.
How much would CCTV for home costs in Dubai ?
Usually, costs vary depending on requirements. There should be online watching facility with IP camera to safeguard your kids at home while you might be busy working at office. We at GIC Networks provide the cheapest security camera installation solution for apartments and villas in Dubai, Abu Dhabi, Ajman, Sharjah, and Ras Al Khaimah.
Please book a fee site visit to get an exact cost for for the cctv service for your house. You can also expect way faster response time for your enquiries when you call one of our staffs on : 054 579 9883 or send us your requirements via sales@GIC Networks.com.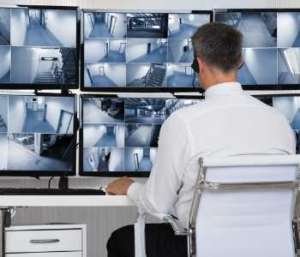 Watch your home while you are not there: Home security cameras
Have the true peace of mind while you are out of your home. Whether you went shopping or visiting friends, home security cameras from GIC NetworksSolutions can offer you a view of your home if you need HD Cameras, IP Cameras, we can install them at your house.
Watch your kids
With the residential surveillance cameras, you can easily watch your kids. Watch when the children get home from school and ensure that they are safe while playing in the yard. You will also keep track of what your babysitter is doing when you get out of the house.
Monitor the visitors
If the surveillance cameras are just installed at your home, they will enable you to watch who is out of your house or on the property before you open the door. This can be monitored through the television or the computer.
Check in 24/7
For the families that are always on the move, you do not need to have someone to stop by your house to ensure that everything is alright. With the 24 hour surveillance, you are capable of guaranteeing oversight of your home inside and out.